Main Stage Entertainment

If you would like to perform at the fair, please use the contact form on this page or email fair@avpro.com. Please include your desired date and time to perform and your performance fee (if any). We'd love any and all type of entertainment on the stage (dance groups, cheer groups, balloon artist, bands, belly dancers, etc). Youth groups are strongly encouraged to apply. All ages are welcome to apply! Please make sure your entertainment is "family friendly".

**Entertainers Information: Each time block is to be used for set up, take down, sound check and performance time. Please be respectful to others and do not go over your time. Loading and unloading of equipment may be done via the Handicapped Parking lot (Near Main Street on the South West side of the Fairgrounds by the Arena). Please only use this area for loading/unloading. All other performer vehicles may utilize the parking lot behind the fairgrounds (east side). All entertainers paid or not are requested to sign a contract with the Utah County Fair. The contracts will be emailed to you ahead of time for you to send in before the Fair or you can bring them with you and turn them in before you go on stage.

Thank you again for performing at the Utah County Fair! (Free Eevent)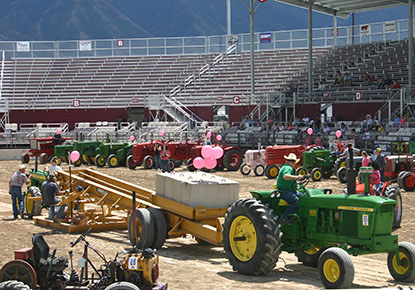 Antique Tractor & Powder Pull

Join us Saturday August 7th in the Grand Arena from 12:00 p.m. to 4:00 p.m. to see us work our tractors magic.

The Tractor Pull is sponsored by the Utah Antique Machinery Association. Members have restored many antique tractors from John Deere's, Farmall, Allis Chamlers, etc. We then come together at the Utah County Fair with our restored tractors to show off our restored tractors. We pull heavy objects to see whose tractor is not only good looking, but the strongest too!

Don't forget the girls, we love these tractors too! We've been working just as hard as the men, so be sure to see the Powder Puff Pull.

Come hear and see these restored tractors put on a show at the County Fair Tractor Pull on Saturday, August 7th from 12:00 p.m. to 4:00 p.m. in the Main Arena (Free Event).