Main Events


• Western Night Rodeo Thursday August 5th at 7:00 pm FREE

• Monster Trucks & Figure 8 Racing Friday August 6th at 7:00 pm

• Demolition Derby Saturday August 7th at 7:00 pm

• American Minor League Ninja August 5th, 6th & 7th all day
Free Events


• Movie Night (Thursday)

• Open Ranch Versatility Show (Thursday)

• Classic Car Show (Friday)

• Antique Tractor Pull (Saturday)

• Main Stage Entertainment (All Days)

• Kids Carnival • Scales & Tails

• Craft Boutique • Farmers Market

• Food Booths • Small Animal Exhibit

• LEGO Display • Kids Cornner

Main Stage Entertainment

If you would like to perform at the fair, please use the contact form on this page or email fair@avpro.com

Please include your desired date and time to perform and your performance fee (if any). We would love all types of entertainment on the main stage (dance groups, cheer groups, balloon artist, bands, belly dancers, etc). Youth groups are strongly encouraged to apply. All ages are welcome to apply! Please make sure your entertainment is "family friendly".

**Entertainer Information: Each time block is to be used for set up, take down, sound check and performance time. Please be respectful to others and do not go over your time. Loading and unloading of equipment may be done via the Handicapped Parking lot (Near Main Street on the South West side of the Fairgrounds by the Arena). Please only use this area for loading/unloading. All other performer vehicles may utilize the parking lot behind the fairgrounds (east side). All entertainers (paid or not) are requested to sign a contract with the Utah County Fair. The contracts will be emailed to you ahead of time for you to send in before the Fair or you can bring them with you and turn them in before you go on stage.

Thank you again for performing at the Utah County Fair! (Free Event)
Antique Tractor & Powder Pull

Join us Saturday August 7th in the Grand Arena from 12:00 p.m. to 4:00 p.m. to see us work our tractors magic.

The Tractor Pull is sponsored by the Utah Antique Machinery Association. Members have restored many antique tractors from John Deere's, Farmall, Allis Chamlers, etc. We then come together at the Utah County Fair with our restored tractors to show off our restored tractors. We pull heavy objects to see whose tractor is not only good looking, but the strongest too!

Don't forget the girls, we love these tractors too! We've been working just as hard as the men, so be sure to see the Powder Puff Pull.

Come hear and see these restored tractors put on a show at the County Fair Tractor Pull on Saturday, August 7th from 12:00 p.m. to 4:00 p.m. in the Main Arena (Free Event)
Scales and Tails

Join us each day of the fair for the Scales and Tails reptile and birds show. It's an amazing, once in a lifetime, experience at Scales and Tails!

By popular demand, Scales and Tails will be back again at the 2021 Utah County Fair! Standing room only crowds are treated to informative and entertaining shows about these amazing animals. Also popular is the interactive, hands-on experience provided to fair-goers after each show along with the opportunity to see the reptiles and birds up close during the fair.

Come and see this fun show in the Kids Corner located in the Tennis Court Building (Free Event)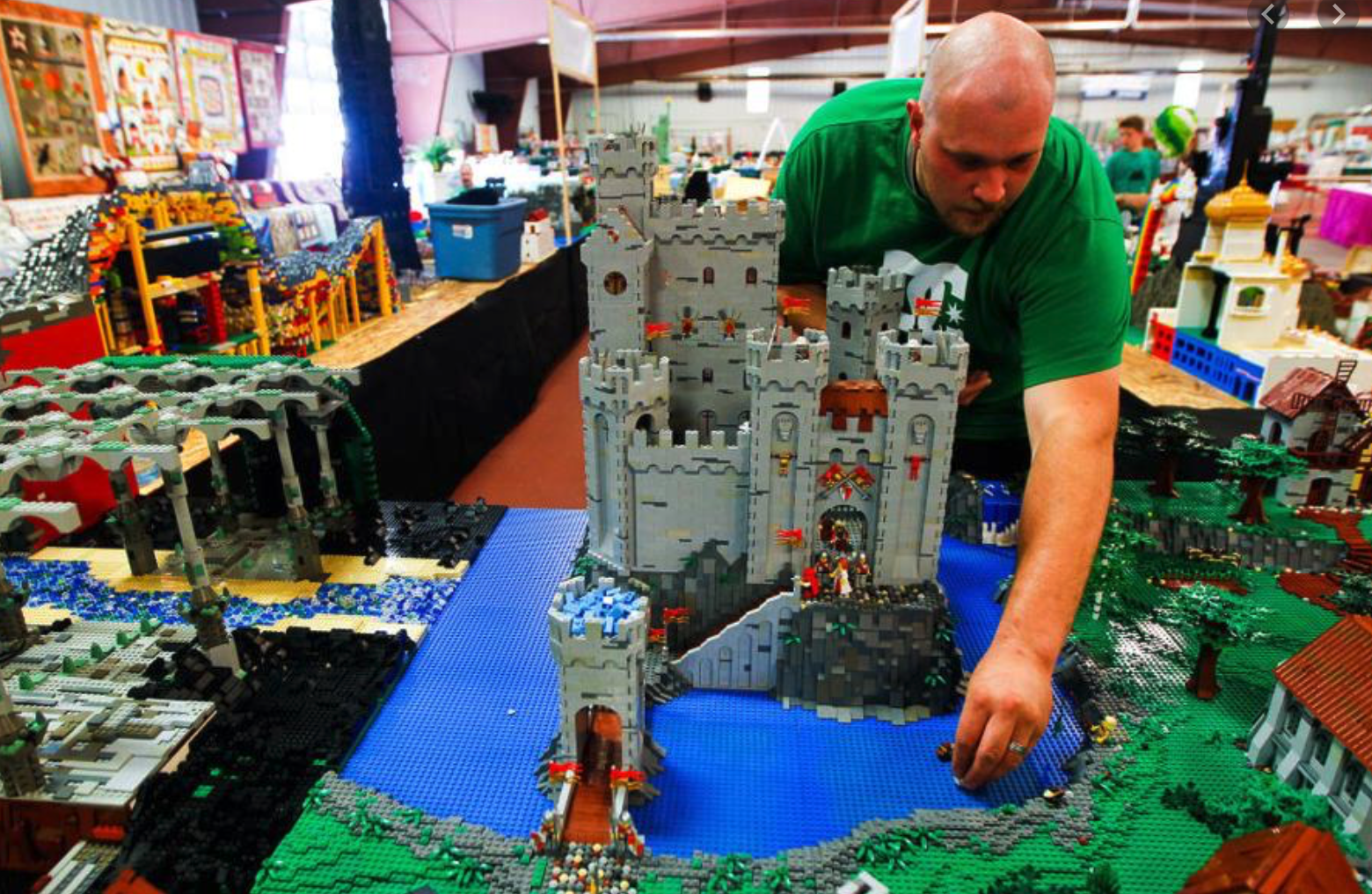 LEGO Display

The Utah Lego User Group, is an adult fan club coming together to show off their creations and passion for the hobby of LEGO. The display consist of over hundred thousand bricks from multiple members from all over Utah. Their goal is to become better builders, pushing the envelope and building something a little bigger and better.

The Utah Lego Users Group has been around for more than a decade and has been displaying at the Utah County Fair in Spanish Fork off and on for many years! They look forward to showing fairgoers something new and different each year.

The LEGO display will be viewable each day during the fair in the Tennis Court Building (Free Event)
Western Night Rodeo

A rodeo the whole family can enjoy! Bareback Riding, Roping, Mutton Bustin, Saddle Bronc, Bull riding and Barrel Racing all in two hours of great rodeo fun.

Add in our rodeo clown featuring THE WILD CHILD
for some laughter and you won't find better family fun.
Troy Lerwill - Rodeo Clown - Bullfighter - Cool dude.

You definitely can't beat the price. Great western family fun - FREE - at the Utah County Fair.
Monster Trucks & Figure 8 Racing
The Utah County Fair Monster Truck show and Figure 8 Race (sponsored by AM/PM Towing) is always an adrenaline-charged family entertainment event!
Be sure to get your tickets soon for the best seats!
During our
Monster Truck
event you will see the most action-packed motorsports event on four wheels. At the event, you will witness world-class driver athletes and the most recognizable trucks tear up the dirt and compete in intense competitions of speed and skill.
Figure 8 Racing
is done on a track shaped like an 8. The cars cross paths at the center of the 8, which is known as the "crossover" or the "X". Because of this layout, crashes are common. Figure 8 racing is a unique form of motorsport that requires strict attention to detail and timing to successfully navigate the crossover.
To enter the race,
Click Here
for sign up information.
Come see these World-class drivers pushing their perfectly engineered vechiles to their limits! Happening on Friday August 6th in the main arena
(Paid Event)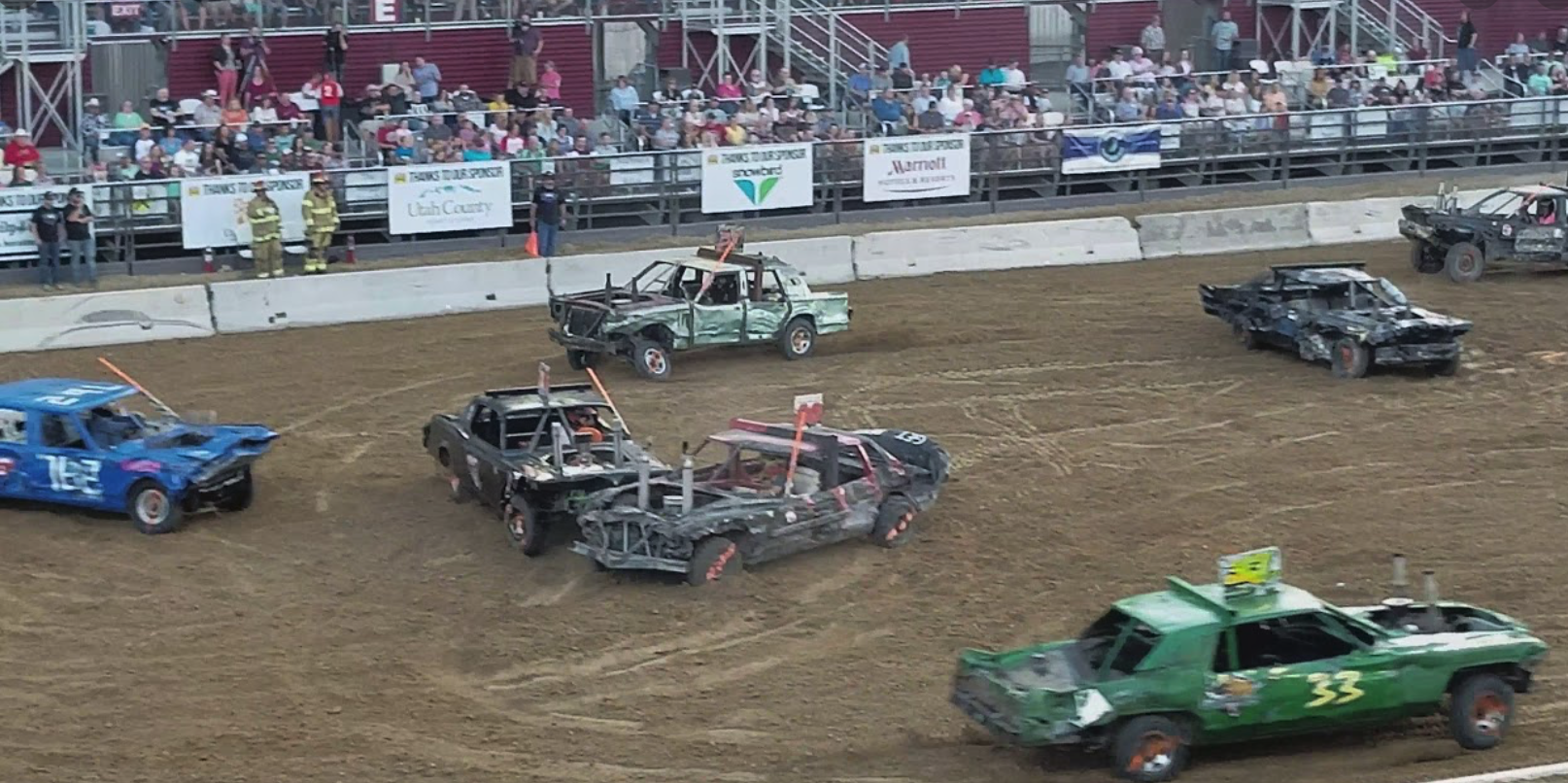 UTC Demolition Derby

The Utah County Fair Demolition Derby -
THIS IS THE BIG LEAGUE!

By definition a Demolition Derby is a contest in which drivers deliberately and repeatedly crash old cars into each other, on a racetrack or in an enclosed area, with the winner being the last vehicle still moving after all others have been disabled.

Competitors traditionally use full-size, American-made sedans and station wagons, especially those from the 1960s and 1970s which are larger, heavier, and had more robust frames than later full-size vehicles.

Come see our drivers compete to the end and see who will walk away with the grand prize this year. The Utah County Fair Demolition Derby is the HOTTEST ticket in town!

The UTC Demolition Derby always sells out quickly and is one of the best ACTION PACKED entertainment opportunities that everyone in the family can enjoy! It's an event you won't want to miss!

The demolition derby is held on the final day of the fair Saturday August 7th in the main arena (Paid Event)
American Minor League Ninja
National Qualifier Event!
Click Here
for information.
Get ready to get wet at the Utah County Fairgrounds!
This is a Regional NinJA competition, city course, national qualifier and three day NinJA youth camp. NinJAs of all ages welcome!
Thousands to the top NinJAs and increasing daily. Mens division, Womans division, and Youth camp.
Sign up
now for early registration discount.
All NinJAs that join the league get their professional profile pages started. Your Stats and your performance information is searchable by tv production, sponsors, and the Public.
Come meet NinJAs from the show Aamerican NinJA Warriors!